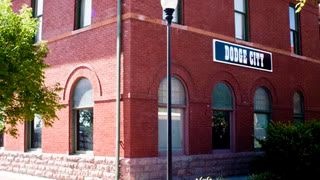 Welcome to depottheaterco.com, the online home of the Depot Theater Company, nestled in the heart of beautiful Dodge City, Kansas! For close to three decades, the Depot Theater Company has been the crown jewel in Southwest Kansas' thriving theater scene. We offer a state-of-the-art dinner theater, cutting-edge "Side Track" productions, cabarets, a student training division and much, much more!
And Then There Were None premieres in October!
By Agatha Christie
Sponsored by Boot Hill Feeders
October 9-11; 16-18*; 23-24, 2015
Ten guilty strangers are trapped on an island. One by one they are accused of murder; one by one they start to die. In this superlative mystery comedy statuettes of little soldier boys on the mantel of a house on an island off the coast of Devon fall to the floor and break one by one as those in the house succumb to a diabolical avenger.
Directed by Gayla Kirmer
Main Stage - Depot Theater
Please take time to look around the Website for more information. If you happen to be in the Dodge City area, please visit our box office at 201 E. Wyatt Earp Blvd in Dodge City, or call us at (620) 225-1001!